City College Norwich Sous Vide Case Study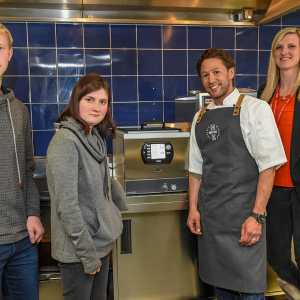 Catering students welcome new sous vide product thanks to Instanta
Cooking for large numbers of people means catering kitchens have to be well-equipped with products and appliances that can handle high volume and speed. With this in mind, when it comes to learning the ropes as a commercial chef, teaching facilities need to provide students with high quality appliances that they will likely see in their future careers.
City College Norwich (CCN), a further education facility in the heart of Norwich, prides itself on providing students with a 'real life' teaching experience. Catering students, as part of their course, even cook for paying guests in the college's on-site restaurant, Debut, giving them valuable experience of meeting tight timescales and cooking a wide range of dishes.
"It's crucial that students are familiar with a variety of cooking equipment", comments Mark Bradly, catering manager for hospitality and catering at CCN. "We want to prepare them for every future scenario, as the commercial kitchens they will be working in once they've graduated will cater for all manner of cooking styles and techniques."
One key product that had become quite dated was the sous vide water bath located within the catering college's innovation and demonstration kitchen. This teaching kitchen, situated next to the restaurant's kitchen, is where lectures and 'hands on' demonstrations take place.
"Sous vide cooking has grown in popularity over recent years" continues Mark. "Chefs have really come to appreciate how flexible they are, and that fantastic results are possible with minimal preparation."
Known for its beverage and catering equipment, Instanta's range of sous vides are loved by professional chefs throughout the catering world. Perfect for both small establishments and large restaurants alike, our range is designed with simplicity and efficiency in mind. With the aim of introducing even more up and coming chefs to our brand and products, we gifted an Instanta SVP38 Culinaire Plus sous vide to the catering department.
"Having a brand new Instanta sous vide for the students to practice with is invaluable, "adds Mark. "As this cooking method grows in popularity it's vital that our students can confidently use one and know how to get the best results."
The Instanta Culinaire Plus sous vide boasts extra functionality designed in consultation with leading chefs. Along with an easy-to-use digital interface, allowing the user to quickly monitor the bath's temperature, it features a unique water agitation system, that pumps the water evenly around the bath, eliminating cold spots commonly seen in similar products. Its spacious tank and partitions are ideal for multi-portion cooking and the inclusion of five timers make it flexible and efficient.
"The Instanta sous vide is easy to use and its size means the students can get used to cooking multiple portions at once which is great" Mark concludes. "Whether we are looking at how to get the best sous vide steak, vegetables or eggs, it produces fantastic results."
Back to all articles