Haste's Kitchen expands recipe bank thanks to Instanta SV25 Culinaire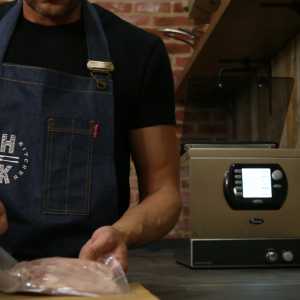 With an impressive 67k YouTube subscribers, the hugely popular cooking channel Haste's Kitchen is the brainchild of Norfolk chef Ian Haste.
Influenced by Ian's gastro pub background and love for healthy eating, the channel's cult following has been enjoying his simple, yet nutritious recipes since its launch in 2014.
Often welcoming fellow wholesome food fanatics such as Jo Wicks "The Body Coach", the Lean Machines and Jim Chapman onto his channel, popular videos include how to make chicken katsu curry, super quick chicken cordon bleu and healthy lamb kebabs.
However, having seen the recent arrival of an Instanta SV25 Culinaire Digital Water Bath into his studio kitchen, Ian has been busy expanding his recipe repertoire to include sous vide cooking.
His first sous vide creation to make it onto the channel included a mouth-wateringly delicious duck breast; a meat that Ian says is perfect for the machine: "The SV25 Culinaire is great for retaining that succulence in poultry meat including duck and chicken.
"However, you can't beat a steak with this method," he adds. "Cooking it in the water bath means the steak has a consistent cooking temperature throughout, whereas pan-searing puts intense heat to the outer sides and none to the centre. Once it's cooked in the sous vide, I then like to finish the steak off in rosemary butter, add crispy greens and serve with a sweet potato and carrot puree."
Used regularly in Ian's kitchen for getting the very best out of savoury ingredients, which as well as meat includes vegetables, eggs and fish, he has also experimented with infusing fruit at a low heat. "Pineapple infused with cinnamon, vanilla and coconut milk is my favourite at the moment," he says.
Continuing, Ian comments on the sous vide machine's key benefits: "The best thing is how reliable it is. As long as you stick to your time scales, which with Instanta's multiple timers feature is easy, you can never overcook with this method and don't get any moisture loss. Each and every time I use it, I achieve a perfect result and texture that is near-on impossible to achieve through any other means of cooking."
That perfect result is down to one of the SV25 Culinaire's key USPs – its water circulation technology. Unique to Instanta, the agitation technology pumps water around the bath to eliminate cold spots, producing perfectly cooked food, every time.
"I like that you can hold meats and other ingredients at a regular heat too, so you can keep them perfectly warm before serving up," he adds. "It's also incredible easy to use. Water baths in general are often looked at as too complex to get to grips with or too time consuming, when in reality you can pre-cook most meats and just re-heat later or brown off just before serving up. You simply click the temperature, set the timer and that's it! Simple."
Commenting on the popular belief that sous vide machines are reserved only for fine dining, Ian concludes: "For those establishments that think this method of cooking is only suited to Michelin-starred restaurants, I would say to give it a go. Once you've used one and tasted the results, you'll wonder why you haven't been using one for years. I'm just looking forward to using it for Christmas Day and all the recipes I can pre-prepare!"
Back to all articles