MasterChef winner Simon Wood puts two SV38s to use at new restaurant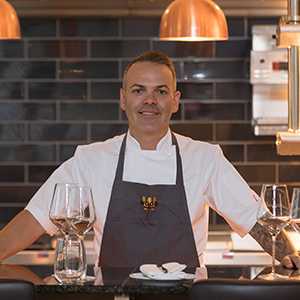 Since his MasterChef triumph in 2015, Simon Wood's progression in the culinary world has been impressive to say the least.
As well as enjoying spells in the kitchens of Marcus Wareing, Simon Rimmer and Theo Randall, and launching his debut cookbook 'At Home with Simon Wood: Fine Dining Made Simple', in 2017 he opened his very first restaurant, WOOD Manchester.
Sat in the heart of the city's First Street development, Simon says the restaurant's concept is simple; to offer "unintimidating high-end dining, delivered with playful authenticity".
Injecting his unique culinary style into every dish, he and his hand-picked team serve up modern interpretations of traditional flavours from an open kitchen that sits in front of the 'Chef's Table', where guests can watch Simon at work.
Utilising state-of-the-art cooking equipment, the kitchen features everything from enclosed charcoal-fired grills through to sous vide machines.
"We have two Instanta SV38 machines at WOOD Manchester," he says, "but I'm looking to get a third and maybe even a fourth! We use them for getting the very best out of meats including beef, venison, duck, lamb, chicken and octopus, and also cook vegetables and fruit in them."
Developed in consultation with award-winning chefs, Instanta's robust, durable and easy-to-use sous vide machines ensure a constant cooking temperature that retains that all-important flavour and moisture, so that ingredients are cooked perfectly every time.
Having initially got into sous vide cooking while on MasterChef, where he learnt new techniques throughout the duration of the series, Simon adds: "The first thing I cooked sous vide was beef, which I did with Michael Caines on the show and is something I still do to this day."
In fact, he says his favourite dish in which the SV38s are used is beef fillet and oxtail tortellini with horseradish, burnt onion and Madeira truffle – a stunning concoction that was shortlisted for the Food Porn Awards 2018 Fine Dining category.
Commenting on the machines key benefits in the kitchen, Simon concludes: "They're fantastic for consistency and really simple to use, but you have to make sure you adhere to strict cooking temperature guidelines.
"They can also help you reduce food waste, as you can never overcook meat – although I do like to finish things in my Josper grill, or in foaming butter in the pan to get that roasted flavour – and they can help you speed up cooking if you're cooking multiple ingredients at the same temperatures."
Back to all articles