Popular Norfolk Restaurant Chooses Instanta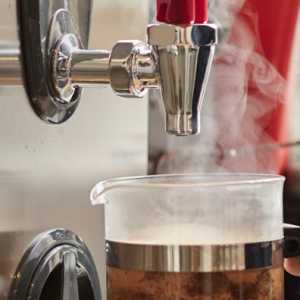 Well known as one of North Norfolk's gems, not just because of its historic setting - it's believed to be Holt's oldest building - Byfords is the place to go for delicious home-cooked food, from breakfast, lunch and dinner to everything in between.
Busy all year round with loyal locals and visitors to the popular upmarket town of Holt, Byfords is so much more than just a restaurant. On entering, guests are shown through the store, jam-packed with savoury pastries, hot food and cakes to take-away, before arriving at the striking but homely vaulted dining-cafe. Those lucky enough to be staying the night or two are shown to a sumptuous B&B suite upstairs.
January 2020 saw Byfords renovate the 'conservatory' area of the restaurant, adding an impressive open marble-topped serving bar, behind which are positioned coffee machines and everything needed to make the ever-popular hot drinks throughout the day. One element of this key area that also needed upgrading was the water boiler. Used almost non-stop to fill teapots and cafetieres, Byfords looked to upgrade their current boiler to ensure it could meet the restaurant's needs.
General manager Richard Knights explains: "All of our kitchen & Bar products need to be able to meet a high level of demand, along with being reliable, as we don't want to be replacing appliances every year." Richard selected an Instanta product after researching boilers and being impressed with the capacity options and dedication to quality manufacture.
A SureFlow Counter Top Filtered (CTS11F) boiler was installed, providing the cafe with up to 162 cups of boiling water per hour, with its built-in multi-functional filtration. This filtration can be adjustable for any catering facility in hard water areas to not only ensure the product isn't affected by limescale build-up but also to keep hot drinks tasting fresh.
"The team makes numerous hot drinks throughout the day," continues Richard, "so it was vital we have a boiler that is up to the task. The tap is at the right height for filling tall teapots and cafetieres and we never have to worry about waiting for the water to be at the right temperature. As it is in a front-of-house location, it's also great that it looks good! The smart stainless steel styling complements our other products and looks professional."
The positive feedback from Byfords team means Richard wouldn't hesitate to recommend Instanta to the other restaurants in the Norfolk Passport brand. "When we come across a product that works so well we always share our insights and I'll certainly be letting the other teams know that they might be missing out on something!"
Back to all articles