25% off the Instanta sous vide range this September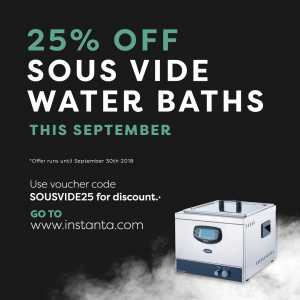 As autumn creeps in give your customers the comforting flavours they'll be after with an Instanta sous vide. Until the end of September there is an incredible 25% discount on our sous vide range. Precise temperature gauges and built-in timers mean meals can be cooked to perfection in the sous vide with extraordinary ease.
Well-known for making meats more succulent and flavours more striking, don't miss out on the chance to make savings on your new sous vide this September.
All machines are British built and are available for next-day delivery, so you always receive the smooth service and high standard you've come to expect from Instanta products.
Make flavours last and save on your new sous vide: use the offer code and get 25% off until the 30th September 2018.
Back to all articles