Instanta Christmas Offer - Use Code XMAS30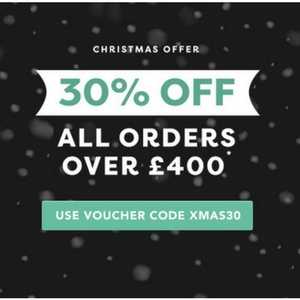 30% off all orders over £400 this Christmas
In a bid to spread a little festive joy this season, we're offering all our customers – both new and existing – a celebratory 30% off when spending £400 or more this Christmas.
Running from now until 31st December 2017, the exclusive Instanta code is valid across any product category, from our leading range of counter top, steamer, under counter and wall mounted water boilers, to our state-of-the-art sous vide machines.
The offer is also available across our range of filters and our recently expanded range of spare parts.
So, whether you're wanting to stock up for the remaining winter season, add some succulence to your Christmas menu with a sous vide machine or up your establishment's beverage offering with our Barista Pro range, we've got a product to suit.
Use code XMAS30 to take advantage of this fantastic offer today.
Instanta Christmas 2017 Opening Hours and last despatch dates.
Tuesday 19th December - Last day for machines to be despatched on FOC standard delivery. Cut off 2.30pm.
Wednesday 20th December - Last day for despatch of spare parts
Thursday 21st December - Last day for machines to be despatched on next day delivery (usual charges apply) cut off 1.30pm
Friday 22nd December - No despatches today but offices are open 9am until 4pm
Saturday 23rd December - CLOSED
Sunday 24th December CHRISTMAS EVE - CLOSED
Monday 25th December CHRISTMAS DAY – CLOSED
Tuesday 26th December BOXING DAY – CLOSED
Wednesday 27th December - CLOSED
Thursday 28th December - CLOSED
Friday 29th December - CLOSED
Saturday 30th December - CLOSED
Sunday 31st December NEW YEARS EVE - CLOSED
Monday 1st January NEW YEARS DAY - CLOSED
Tuesday 2nd January - Re-open as normal but next day deliveries not available
Wednesday 3rd January - Open as normal
Back to all articles