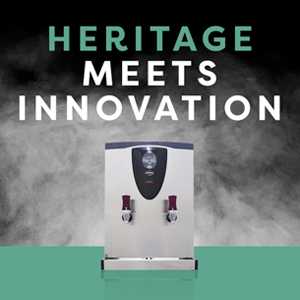 2017 marked a key anniversary for Instanta as we reached our 60th year of business. For six decades now we have been producing and supplying superior boiling and chilled water equipment to top commercial businesses across the country.
Our heritage is important to us here at Instanta, we now have more products to our name than we have years; our collection spans 61 innovative products ranging from water boilers to digital water baths.
With a wealth of product knowledge behind us, we have the expertise and foresight to keep Instanta technology up to date and the head of its game. Features such as the ECO mode, a 7-day programmable timer and a built-in, high flow multi-filtration system mean that our products are more functional, more energy efficient and safer than ever before.
Instanta Fact File
From founder to factory: Back in 1957, our founder Mr.Thompson built, designed and sold his first boiler in a small workshop close to Southport town centre. Today, the Instanta products are still handcrafted and assembled in our factory site in Southport, Merseyside.
Local Roots: Not only do we continue to employ locally, but we also source a large proportion of materials and components from within the UK.
Trend Setters: In 1995, Instanta became the first water boiler manufacturer to use a thermistor instead of a thermostat.
Original ideas, new designs: Our very first steam boiler, the SIB2 Supertwin, remains popular 60 years on. It has evolved with every year of manufacture to become the functional, streamlined model it is today.
Back to all articles