Time to change your filter?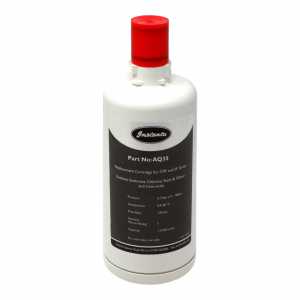 Something as simple as changing a filter - and believe us it's easy when you know how- can lead to a lot of questions. Am I changing my filter at the right time? How do I change my filter? Which filter do I need to buy?
Here at Instanta we've got you covered, we have created a go-to guide on the when, the how and even the why behind changing your filter to answer all your burning questions. You don't need to be an expert, just follow our simple hints and tips.
Why do I need to change my Filter?
Did you know that all our Instanta water systems are designed so that all your customers' drinks are fresh and pure tasting? This is because all of our systems can be installed with filters which remove sediment, limescale and any unwanted chemical tastes from your water supply. Filtration doesn't only improve the quality of your water, it also keeps your Instanta equipment working at its best. So, by changing your filter regularly you are minimising the service time your boiler will require in the future.
As you probably already know, limescale is a problem for people across the UK, almost 60 per cent of the country is made up of hard water areas. The filter in your Instanta boiler will remove the calcium carbonates in hard water to improve the taste of your drinks. The build-up of these carbonates over time will eventually affect the workings of the filter but better that than the workings of your boiler! This is why it is so important to change your filter regularly. If you do live in a hard water area we offer other filters with higher filtration, which might be a better option for your business.
When do I need to change my Filter?
If you are looking to keep maintenance costs low, don't leave it too long between changing the filter on your Instanta water system. We recommend six months between filters changes to keep your system operating at its best. If you live in a hard water area, where the filter is working at a greater rate to avoid limescale build up, a shorter time between changes might be necessary.
Many of our models alert you to when it's time for a filter change so you don't have to depend on the calendar. A filter monitor can be installed on premium range models to keep you updated on the filter duration left in your system. Our SureFlow Counter Top Filtered and SureFlow Counter Top Plus ranges also have a countdown system on their visual displays, which can be set according to the hardness of water in your area. These will alert you to when your filters need to be changed, making your life easier.
How do I change my Filter?
How you change your filter depends on the model type you own. To check which filter your machine uses please check your product manual. Below is an example of the type of filters that could be compatible with your machine.
If you have one of the following models then your machine has an integral filter: CTSP10, CTSP10H, CTSP11H/6, CTSP17H, CTSP17T, CTSP17HT, CTSP19T/6, CTSP19HT/6, CTSP27T/6, CTS10F and CTS17F. Changing the filter on these boilers is so easy it can be done with no technical know-how, it is just a simple turn and pull action to remove and then the same 90 degree turn to replace. Please see below for a step-by-step guide on replacing your integral filter.
Most of our other models, whether they are under-counter units or on brackets, have filters as quick-release cartridges which can be easily released with a little expertise. Please see your product manual for more information on how to change these filters.
Prevention is all about Filtration
We know that the last thing you want are extra maintenance costs; prevent this occurring by taking care of the filters in your Instanta product. If you don't replace your filters regularly limescale can build up, this in turn leads to increased service calls and equipment down time – an outcome that we don't want for you or your customers.
Please ensure your Instanta boiler or chilled water system is always installed correctly by an engineer or plumber. If you have any further questions regarding changing the filter on your product or have any other maintenance queries please contact our technical support line here: 01704 501114
Back to all articles