Delicious Sous Vide duck breast recipe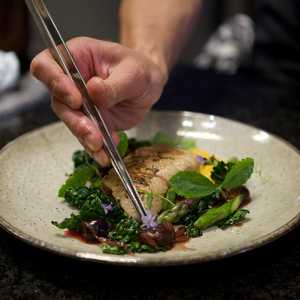 Not only is duck delicious and versatile, but it is an under-acknowledged source of lean protein (yes, really - just remove the fatty skin!). It is also packed with nutrients such as Vitamin B, iron, zinc and selenium which are vital for a healthy immune system.
Duck is also ideal to cook using the sous vide. By cooking it at a low temperature for a relatively long time, the duck retains its moisture and is butter-soft. Adding herbs and flavourings to the sous vide bag helps to infuse the duck with flavour and means you serve up a mouthwatering dish.
Vlogger Ian Haste from Haste's Kitchen created the following recipe when he kindly carried out a demonstration at City College Norwich recently. We hope you find it as inspiring as it is tasty.
Glazed sous vide duck breast in a cognac cherry reduction and crunchy cavolo nero
Ingredients:
1 x duck breast
Salt and pepper to season
1 x sprig rosemary and oregano
1 clove garlic
1 shot cognac
50g butter
2 x tsp olive oil
50g cavolo nero
50g cherries (no pips)
1/2 small sweet potato
1/2 parsnip
Pea shoots for garnish
Instructions:
Add the duck breast to the sous vide packet, along with a dash of olive oil, crushed garlic and herbs, I like to used oregano and rosemary. Seal and add to the Instanta water bath at 60? for 45 minutes.
Add sweet potato and parsnip to a pan of butter milk and simmer with a pinch of salt and pepper, this can be blitzed once soft.
Once the duck is cooked, add to a pre-heated pan with a small amount of butter and baste the breast until the skin gets a good amount of colour, remove and allow to rest. Now add the cavolo nero to the buttered pan along with cherries and a shot of cognac, tilt the pan to allow the alcohol to catch the brandy and flambé for around 2-4 minutes until the sauce has reduced to a thick jus.
Serve with a spoonful of puree, the duck breast and surround with the nero and cherry reduction. Dress with pea shoots.
Watch Ian Haste's demo at the Norwich City College.
This is the first video on the Instanta Youtube Channel - please subscribe, like and share!
Back to all articles