Haste's Kitchen creates succulent duck dish with Instanta Sous Vide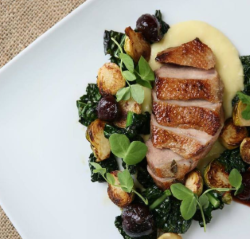 Ian Haste, the chef behind uber-popular YouTube channel Haste's Kitchen, is all about simplifying nutritious cooking – and his latest creation doesn't disappoint.
Having recently discovered the benefits of sous vide cooking, thanks to the arrival of an Instanta SV25 Culinaire Digital Water Bath, Ian has made a succulent pan-fried duck dish; a recipe he admits is one of his favourites to date.
Served with parsnip purée, crispy cavolo nero and Brussel sprouts, it's finished with a rich cherry and port reduction, packing a real punch of flavour.
To create this simple yet beautiful dish, Ian begins by scoring his duck breast and trimming any overly fatty areas. He then seals in a bag with fresh thyme, a pinch of rock salt and a good drizzle of olive oil and cooks in the SV25 for 45 minutes. Next, he prepares fresh Brussel sprouts and cooks for 30 minutes, also in the sous vide machine.
While they both cook away to perfection, without Ian having to tend to them, he's free to whip up his deliciously creamy parsnip purée. When the duck and sprouts are ready, indicated by the SV25's multi-timer function, both are seared off in butter, before roughly chopped cavolo nero is added.
With the duck left to rest, he goes on to prepare his hot cherry and port reduction using juices left over in the pan. It's then all beautifully arranged on a plate, with a few watercress shoots added for that pop of colour and freshness.
"I love this recipe, it's so easy to do, nothing too complex but packed full of flavours," says Ian, before urging his followers to give it a go.
Discussing the SV25 towards the end of his video, he adds: "It's an absolute game-changer as far as I'm concerned, I've used it non-stop for the last two weeks. It's a brilliant bit of kit."
For more recipes like this one, check out the Haste's Kitchen YouTube channel here.
Back to all articles