Health and hygiene your priority? Reduce contact points with our new touch-free solution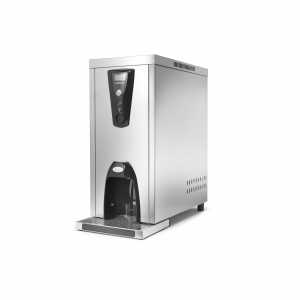 Here at Instanta, the UK manufacturer of robust and reliable water boilers, we are thrilled to announce the launch of the new touch-free SureFlow counter top water boiler.
New addition for the SureFlow range
With health and hygiene now the number one priority for businesses and hospitality venues of all shapes and sizes, touch-free facilities that reduce contact points are a must-have. Our new touch-free counter top boiler has been developed to support businesses in creating safe, COVID-secure environments for staff, visitors and customers alike.
Touch-free operation
The SureFlow Touch Free Counter Top Boiler (product code CTS10TF) is a 100% touch-free boiling water solution.
Here's how it works:
When the boiler has heated up to the correct pre-set temperature, the LCD display changes from red to white and reads 'READY'.
When a vessel is placed within the recessed cup area it breaks the safety light beam which in turn, sends a signal to the dispense sensor.
On-demand water is dispensed for as long the sensor is activated by the presence of the operator's hand or a pre-set measured dose of water is dispensed by passing a hand or finger within 25mm of the sensor
Choice of water dispense
The SureFlow Touch Free Counter Top Boiler gives you the choice of on-demand or pre-programmed timed water dispensing, depending on what is most suitable for your business or facility.
For added convenience when operating in timed dispense mode, a top-up feature allows users to top-up the drink following a measured dispense. The screen continues to flash for 5 seconds during which time the drink can be topped up. After 5 seconds, it reverts to the original timed dispense mode.
Unique safety features
A clever safety beam feature can detect when a cup has been placed within the cup recess and will not dispense water unless this has been activated. The LCD screen also displays a prominent 'Caution Hot Water' safety message which will flash whenever hot water is being dispensed.
Choice of installation
The SureFlow Touch Free Counter Top Boiler's electrical mains cord and water inlet coupling are both underneath the boiler, providing you a choice of service connections from under counter or above counter.
Find out more or buy today
Discover further technical information here.
Our dedicated sales team is on hand to support you. If you have any questions please don't hesitate to contact us:
0345 600 5005
Back to all articles