IMPORTANT INSTANTA ANNOUNCEMENT: Change of legal entity and notification of a finance shared service centre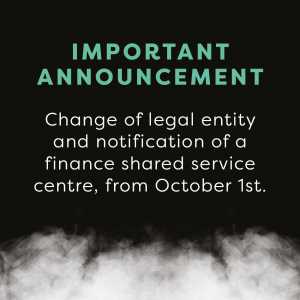 We have an important announcement for all of our valued customers.
The Instanta business has been owned by Zip Water for a number of years. Zip Water is the market leader in the drinking water industry and is part of the wider global Culligan Group.
Over recent months we have reviewed our business model and to enable the business to continue to deliver the exceptional products and services that you have come to expect from our brand, we have realigned our business, which means that you will see some changes to your day to day points of contact moving forward.
From 1st October, the complete range of Zip and Instanta branded products will be available to you from a single point of contact. We will continue to manufacture in Southport in the UK where we have been manufacturing for over 60 years. Sales, finance and customer experience will be managed by the Zip Water team in Dereham, Norfolk.
We want to assure you that the exceptional level of service that you've come to expect from Instanta will continue. Having a personal point of contact remains our priority.
New ways to contact us
We will have new email addresses and phone numbers for your enquiries.
For orders and enquiries:
Email: orders@zipindustries.co.uk
Tel: 0345 600 5005
For finance queries:
Email: accountsreceivableUK.MFT@culligan.com
Tel: 0345 600 5005
Please note that this is a Culligan email address. Zip is part of the Culligan Group and as part of the move to a shared service centre, we now have a centralised email address. Please look out for emails from this email address and don't forget to check your spam folder.
Correspondence Address:
Trafalgar House, Rash's Green, Dereham, Norfolk, NR19 1JG
But don't worry, existing email addresses and phone numbers will be redirected in the short term, so we won't miss any of your communications.
What does this mean for you?
From 1st October, all trading will be through Zip Water:
Company reg. No: 02649782

Reg office address: Fourth Floor, Abbots House, Abbey Street, Reading, RG1 3BD

VAT number: GB 3385 603 88
Your account details will be automatically transferred over to Zip Water.
What are the benefits for me?
As well as having access to a wider product range, you will benefit from a single source of supply of both brands and invoice, along with your single point of contact.
Explore the Zip Water product rages here: https://specify.zipwater.co.uk/
What do I need to do?
Orders from 1st October 2020 should be placed with Zip Water by sending your purchase order to; orders@zipindustries.co.uk. Zip Water payment instructions will be included in the invoice.
From all here at Instanta, we want to thank you for all your continued support and we look forward to continuing to work together in the future.
Back to all articles