Instanta Launches Counter Attack with CP(F) Range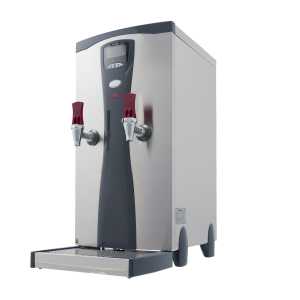 Instanta's CP(F) range of British built countertop stainless steel autofill water boilers has a stylish look, upgraded electronics and a host of features including an ECO mode which allows the user to switch the boiler to energy saving half capacity during quiet periods.
The six different models in the Instanta CP(F) series, running on 3kw or 6kw, have a rapid draw-off ranging from 10 to 27 litres, which makes them suitable for all types and sizes of catering business. Features include a liquid crystal display for heater operation, energy saving mode and filter status, plus a seven-day timer with simplified programming. Easy to read warnings of lime scale build up and a full diagnosis of any component problems make the CP(F) range simple to operate and maintain.
Models in the CP(F) range also have a large internal filter to reduce chlorine, taste and odour, while inhibiting lime-scale formation and this filter can be replaced easily from the front of the unit. The new filter counter measures throughput whilst a display signals when it is time for a cartridge replacement.
With a minimum hourly output of hot water ranging from 28 to 57 litres, depending on the model, the CP(F) counter-top range once again proves that Instanta can provide style with practicality.
Back to all articles