Instanta's SV25 Culinaire Sous Vide: Everything you need to know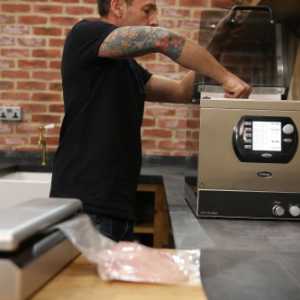 Developed in consultation with award-winning chefs, Instanta's robust, durable and easy-to-use SV25 Culinaire has an impressive 60 years of expertise in hot water technology behind it. Built and engineered for the catering environment, it's the perfect choice for establishments looking to up their culinary game.
Unlike many other sous vide machines, which carry with them a complicated-to-use, labour-intensive image, Instanta's sous vide range is simple to cook with and remarkably time-saving, making it just as popular with chefs at smaller, independent establishments, as it is with the fine dining pros of the catering and hospitality world.
Key features include a digital display, showing the actual temperature it's been set to, an easy draining facility, making clean-up a breeze, and a low water level warning, meaning that having to manually check water levels is not necessary as a pre-warning alarm simply notifies the user when levels are getting low. A heavy duty glass hinged lid also allows condensed water to drain back into the sous vide.
Along with an extra deep tank boasting a maximum capacity of 25 litres, enabling you to cook individual or much bigger portions in vacuum packs, the SV25 Culinaire model also comes with a removable rack system and optional partitions. These dividers make it far easier to cook and remove multiple dishes or ingredients in the correct order. And with five separate built-in timers, including hours and minutes, different foods needing different cooking times can be left unmanned to cook away.
Aside from its ease of use, labour-saving credentials and ability to cook multiple dishes in one machine, one of the Culinaire's key USPs is its water circulation technology. Unique to Instanta, the agitation technology pumps water around the bath to eliminate cold spots, producing perfectly cooked food, every time. The model also features a powerful heater, which enables a faster temperature recovery and a heat up time to 60ºC in approximately 31 minutes.
While housing a range of high-tech features, the product's robustness isn't compromised. All aspects of the SV25 Culinaire's manufacture has been carried out in our UK factory in Southport, including design and product development, manufacture of metal fabrication, welding, assembly, testing and inspection, packing and despatch.
We also have an on-site machine shop, which produces the brass and stainless steel components for all of our water boilers, including the SV25 Culinaire's high grade stainless steel case and heating chamber. The sous vide machine's custom-designed micro-electronics are designed and assembly in Southport too, and are the most advanced to be found on any comparable product. All of this results in the highest possible standards, not just in terms of the product's quality, but also in terms of service and aftercare.
Thanks to this commitment to high standards, the SV25 Culinaire is one of the industry's absolute bests – housing an easy, time-saving, reliable technique producing unique results that are near-on impossible to achieve through any other method.
Back to all articles