Introducing the touch-free adaptor for the Counter Top and Wall Mounted SureFlow ranges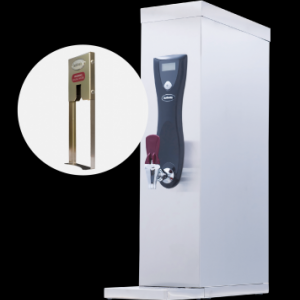 Now available to purchase, the new touch-free adaptor for the SureFlow range is an ideal solution where there are particular concerns around hygiene.
A simple, low-cost solution
Suitable for both the Counter Top and Wall Mounted models, the simple to install accessory - manufactured from grade 304 stainless steel - is a quick and low-cost way to enable users to dispense boiling water without having to touch the handle. Instead, with the adaptor sitting over the handle, water is dispensed by pushing back on it with a cup.
Designed to help minimise the risks of cross contamination from hands-on operation, the convenient adaptor is easily removable for pot filling and is robust enough for regular cleaning and sanitising.
The adaptor is compatible with the majority of models in the SureFlow Counter Top and Wall Mounted ranges - please note, it is not compatible with the following: CTSV135T/18, CTS10PB, CTSP15PB, all Under Counter Boilers, InstaTaps or Sous Vides.
Limited time introductory offer!
You can save up to 30% on the new touch free adapter until the 31st August.
As well as one-off purchases, the adaptor is available in bulk if you have a number of SureFlow models installed. Buy online or email sales@instanta.com to place your order.
The SureFlow range
Our flagship SureFlow range provides robust and reliable hot and cold drinking water solutions to countless catering businesses. From slimline to high capacity Counter Top models, to the space saving wall mounted products, the range features solutions that cater to every requirement. Discover more here.
We are here to help
If you are reopening your facilities and are looking for support when getting your systems back up and running please do not hesitate to contact us.
Back to all articles