Make your own gin with Ian Haste's quick and easy guide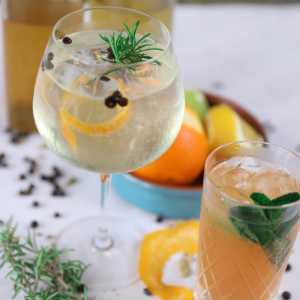 Watch as YouTube chef Ian Haste give us his ori-gin-al take on the classic G&T….
It is well known that sous vides are one of the best culinary utensils to bring out the best flavours in your cooking but did you also know that they're equally fantastic at creating delicious drinks?
In an original take on a classic, popular YouTube chef Ian Haste (Haste's Kitchen) uses his Instanta sous vide to turn a standard bottle of vodka into a flavoursome gin. This can make the perfect base to all your cocktail recipes, not only giving your customers' standard cocktails a more exciting twist but homemade gin is also more economical than purchasing specialist distilled versions.
Incredibly simple to make, Ian demonstrates how, in under half an hour, a gin made at home can still achieve the same subtle blend of flavours as shop-bought varieties, without the added expense. Invite your customers to enjoy 'homemade' gin creations, perfect for serving at summer events or as something different to add to your drinks range.
In the video below, Ian shows sous vide owners how to make a rosemary and grapefruit gin and a lemon and mint one, both make a refreshing and vibrant change to the standard gin and tonic but once the basic method has been mastered it is easy to create your own taste combinations.
Other than vodka and the juniper berries, you can really go to town with your other ingredients. Common flavours people lean towards include coriander seed, angelica root, citrus peel and cinnamon but there's nothing stopping you raiding the herb garden or the spice cabinet to create other combinations. To give a floral hint to your drinks you could try lavender or, if you're looking for something a little stronger, liquorice powder or ginger root spices up the spirit.
For those not so keen on experimenting straight away just follow Ian's recipe to achieve great tasting results first time round. Once you've established which flavours you prefer you can always experiment later. Also, rather than the usual tonic why not try alternative soda or sparkling water mixers to add another layer of flavour to the cocktail.
For the ginspriation you've been looking for watch Ian's video below to come up with your own sensational recipes.
Back to all articles