Spotlight on the SureFlow Plus wall mounted range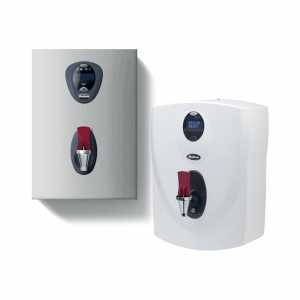 Our reliable reputation precedes us when it comes to our SureFlow Plus Wall Mounted boiling water systems. Perfectly suited for any large commercial site, from football stadiums to busy restaurants alike, SureFlow Plus is a durable and reliable boiler available in both impact resistant thermoplastic and high-grade stainless steel.
Created from two of the most hard-wearing materials, the boilers can cope with usage from even the busiest of environments due to their large capacity and swift replenishing time. From offices to airports, cafes to hospitals, with the larger stainless steel models producing up to 342 cups an hour, this range is ideal in any location.
With counter space often at a premium, these wall-mounted boilers fit neatly into even the most compact of areas. They are programmable to suit the needs of your business and offer temperature control from 80°C - 98°C, enabling every drop to be used at your desired heat.
The use of innovative features, such as the integral 7-day programmable timer and the energy saving ECO mode, guarantees that SureFlow Plus boilers are more functional and energy-efficient than ever before. Using a stainless steel heating chamber, the boiler remains insulated for minimal heat loss, saving you money on your energy tariff.
SureFlow Plus Wall Mounted boilers are easy to install and are designed for a direct connection to a potable cold water supply. They offer a choice of connection through the rear or from beneath and require two bar incoming water pressure.
As with all our ranges, these boilers are designed to last, delivering a high volume of hot drinks year after year. All SureFlow Plus boilers are WRAS approved and feature a two-year warranty.
Whether you work in a large restaurant, sports centre or nursing home, there is a SureFlow Plus system to suit you.
View our great range of products now or if you have a question about finding the perfect boiling water solution for you please contact our customer service team.
Back to all articles