Touch-free range offers added protection for your workforce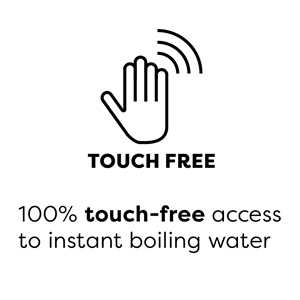 As a leading manufacturer of robust and reliable water boilers, we have responded to the challenges brought about by the pandemic by developing our range of touch-free products.
Our touch-free products are aimed at reducing touchpoints, minimising the risk of cross-contamination in commercial spaces, and come with several built-in safety features making them a trustworthy option for the workplace.
The products have been developed for the post-pandemic world and have been released to coincide with the gradual reopening of hospitality venues and the return of employees to the workplace.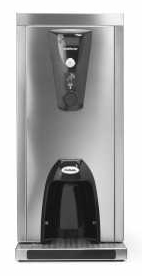 Choose from on-demand or pre-programmed timed water dispense, for a sensor-activated contactless boiling water solution.
Slimline and stylish, this product is also insulated for minimal heat loss.
It boasts a number of handy safety features including an LCD display which indicates 'Caution Hot Water', safety beam feature and over-fill protection. As well as being quick and easy to programme, it is also simple to install, service and clean.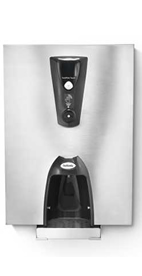 This contactless wall-mounted boiler uses infrared sensors to provide instant boiling water. It can be pre-programmed for timed dispense or operate on an on-demand basis.
Being wall-mounted it doesn't take up valuable worktop space and it's simple to install. Plus, it's convenient and easy to use, boasting a raft of useful details such as the top-up feature, safety light beam and safety message.
The Instanta Touch-free tap adaptor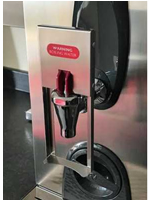 A new touch free adaptor for our existing Sureflow countertop and wall mounted ranges, which allows the touch free dispensing of boiling water.
The simple to install accessory, manufactured from grade 304 stainless steel, enables the dispensing of boiling water by pushing back on the handle with a cup. This easily fits over the existing hand-operated handle - a perfect retrofit solution for areas where there are particular concerns around hygiene.
These products also sit in the wider touch-free product offering from Zip Water, our parent company. The full touch-free range of drinking water solutions also includes the Zip HydroTap Touch-Free Wave and HydroChill HC03 contactless drinking water dispenser. Head over to the Zip Water website to find out more.
Our dedicated sales team is on hand to support you. Order from us directly online today or for further information on our touch-free range please call 0345 646 1015, get in touch via our contact form or email orders@zipindustries.co.uk.
Back to all articles