Turn Down The Heat To Turn Up The Taste Of Your Hot Drinks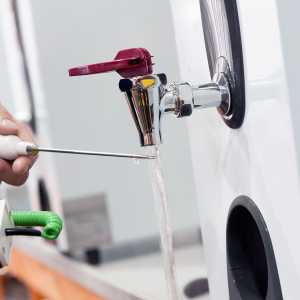 As beverage lists continue to grow, don't let quantity compromise the quality of your customer's hot drinks. Here at Instanta, we have investigated how important water temperature is when bringing out the best tastes in your customer's favourite hot beverages.
Good flavours are essential to producing the perfect tea or coffee, and to ensure these flavours come through it's crucial that the correct water temperature is used. Contrary to popular belief, water shouldn't be at boiling point, 100 degrees, when making hot drinks. At 100 degrees, water burns coffee and extracts bitter-tasting compounds from tea, leaving your customers with a less-than-pleasant after-taste.
Get the best out of your beans with Instanta water boilers. Set at 96 degrees, the default temperature of Instanta hot water boilers have been intentionally set to achieve those perfect beverages. For brewing coffee, the water temperature should never be below 91 degrees or above 98 degrees as the flavours will not extract properly. This makes 96 degrees the ultimate temperature water needs to be at to draw out those rich keynotes that coffee connoisseurs really value.
When brewing tea each variety has its own different temperature requirement. An often debated topic, black teas, such as Assam or your standard English Breakfast, always react best to freshly boiled water above the 95 degree mark. It is the steeping time that affects the strength of the flavour. Like black tea, get the best from your oolong, pu-erh, fruit and herbal infusions by using this slightly higher temperature.
However, the more delicate teas require much lower temperatures. Extract the sweet, refreshing flavours of green, yellow and white teas with water closer to the 80 degree mark. For these teas, it is best to leave freshly boiled water in a jug for a couple of minutes before pouring into the pot or mug.
Producing multiple hot drinks becomes so much easier with the Instanta Sureflow Dual chamber, one of Instanta's latest water boilers. On this boiler the water temperature can be easily adjusted in the program mode between 72 and 98 degrees and the dual chamber feature means that two different temperatures can be dispensed at the same time. Programming one tank to be at a higher temperature than the other means you can ensure the perfect temperature is available for different drinks as and when it is needed.
If your workplace does use a boiler with an adjustable temperature setting, try experimenting to discover which brings out the best of your blends and brands. The quality and temperature of the water used are so vital when creating the perfect hot beverages. This is another reason why the kettle fails to deliver in a commercial environment, too small quantities at too high temperatures.
Note – Non-temperature programmable Instanta boilers come with the water temperature set at 96 degrees but this can be changed if required.
Back to all articles