Why not Add Something Refreshingly Special to your Drinks Menu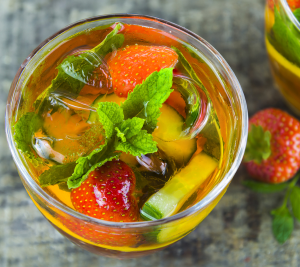 Summer Cup Lemonade

300 millilitres Summer Fruit Cup
2 litres lemonade made with the InstaTap Chilled unit for the best tasting lemonade
1 wedge of cucumber
1 red apple, cored and thinly sliced
1 orange, sliced
1/2 lemon, sliced
1/2 lime, sliced
3 strawberries, sliced (optional)
3 leaves fresh mint

Mix the summer cup liqueur and lemonade together in a serving container. Toss in the cucumber wedge, apple, orange, lemon, lime, pineapple, strawberries and mint. With the UCCH1000 InstaTap Chilled unit, this beverage is glacial-cold and ready to serve or can be enhanced with ice.

Strawberry Iced Tea

500 millilitres strawberries, whole frozen
1 litre tea (4 or 5 tea bags), using an Instanta water boiler unit
60 millilitres lemon juice, fresh squeezed
60 millilitres caster sugar or more to taste (alternatively, use less sugar and reach for any sweetener of your choice)

Using an Instanta hot water boiler, stream boiled water over tea in a large pot. Steep for 10 minutes for that extra caffeine kick! Throw away the tea bags and follow up with sugar. Once sugar is dissolved, pour tea into a serving pitcher. Last of all, in goes the lemon juice and the frozen strawberries. Stir and enjoy!

Infused Water Drinks

How about enjoying drinks that are light, low in sugar or sugar free (any sweetener can be used) with a major flavor boost. The possible combinations of fruit, vegetables, herbs and spices are numerous! Here are a couple of ideas to try.

First prepare ice cubes using the Chilled InstaTap for the best, pure and clean-tasting ice.

Watermelon and Rosemary Infusion

500 millilitres chopped watermelon
2 large sprigs of rosemary

Put fruit and herbs into a serving container (about one litre). Put ice on top to cover contents. Include enough InstaTap water so everything is covered. Chill in fridge for about 10 minutes to allow flavors to mix. When pitcher or water bottle is half-way consumed, re-fill container with ice, water, one sprig of rosemary and 60 millilitres of sliced watermelon.

This can be repeated three to five times before a new container will need to be made.


Irish Coffee

250 millilitres heavy cream
60 millilitres sugar
750 millilitres strong hot coffee using Instanta water boiler
125 millilitres Irish whisky

Whip together cream and sugar in a bowl until firm peaks form. Evenly distribute coffee and whiskey into four coffee cups. Top each drink with whipped cream. Delicious!

Mexican Hot Chocolate – Decadent and Easy

45 millilitres hot drinking chocolate mix
2 1/2 millimetres ground cinnamon
1 pinch chilli powder
60 millilitres 2-percent milk
175 boiling water

Combine dry ingredients in a large mug and then blend in the milk. Add boiling water from the Instanta's water boiler and stir. Perfecto!
Back to all articles