Why You Should Consider The Gingerbread Latte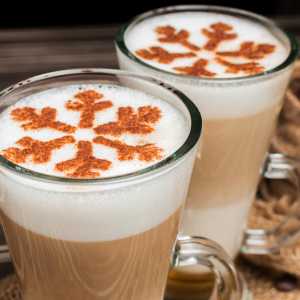 Coffee drinkers enjoy checking out different types and flavours of their favourite brew and nothing could be more seasonal for Christmas than adding Gingerbread Latte to the coffee shop or restaurant beverage menu. As the winter weather begins to bite and Christmas gift shoppers head to the High Streets you'll surely find customer numbers heading upwards regularly through December, so adding a Christmas menu or seasonal offerings to your menu really does make good business sense.

Everybody likes to feel a little special at times and Christmas tends to be one season of the year that shoppers rely upon to indulge their senses in every way. The spices and nutmeg incorporated within Gingerbread Latte really does mean these coffees will impart seasonal, festive cheer to your customers and it's highly likely drinking them will encourage increased spending in your coffee shop or restaurant.

You'll find it easy to create your own special recipes to give your customers an individual hot beverage experience that ensures they keep dropping into your coffee shop regularly in the busy Christmas shopping period, alternatively you can purchase syrups from your usual supplier. Many suppliers offer a variety of promotions and special deals during the festive season, so don't neglect checking up on any offers from your wholesalers.

At Instanta, we're always looking at ways our customers can increase footfall and customer spend in their coffee shops, and boost use of the commercial steam and water boilers we supply like the high performing WB2 which is a popular choice for any outlet producing coffee and hot drinks in high volumes. Opting for a Christmas menu for hot beverages is a great choice for any customer focused coffee shop proprietor. You'll find gingerbread latte is a top seller over the festive season and customers will appreciate a topping of whipped cream and dusting of chocolate on their specialty latte.

We're proud to partner with our customers and keep them supplied with the top catering and beverage equipment at Instanta and our customers appreciate our products' durability and reliability.
Back to all articles