Instanta adds another product to its WRAS approved list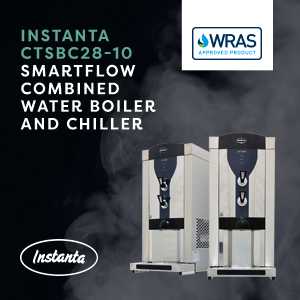 We are pleased to announce that another of our counter top water boilers has received WRAS Approval. The CTSBC28-10 (CH1000) SureFlow combined water boiler and chiller now joins the majority of our boiler range with WRAS Approval.
Capable of dispensing up to 28 litres of boiling water per hour, but also, up to 60 cups of chilled water per hour, this flexible and convenient product offers a more efficient alternative to the standard water dispenser for offices and commercial environments.
Adding to the list of reasons why you should consider an Instanta water boiler for your workplace or catering establishment, The Water Regulations Advisory Scheme (WRAS) is a conformance mark that demonstrates that an item complies with the high standards set out by the 1999 UK water regulations. It is accepted as a quality benchmark by water suppliers who enforce the Water Regulations and byelaws and is the best way of demonstrating that the product has undergone rigorous testing, as well as a great indicator of the quality of a product.
Of our expansive water boiler range, 80% are now WRAS Approved, and even those without the rating are built to WRAS specification so as to ensure a high standard is maintained across the board.
Developing a product which offers a professional standard of delivery is our priority. That's why high specification materials and rigorous testing are all part of our manufacture process to ensure our boilers will stand the test of time. And, because our products are all handmade in the UK, we have even greater control over quality.
Back to all articles