Top Chef Introduces City College Students to Gifted Product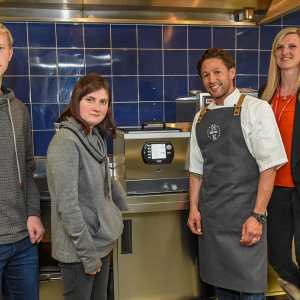 Instanta, manufacturer of boiling and chilled water systems, has shown its support for the next generation of catering professionals by donating one of its products to City College Norwich (CCN).
The specialist product, an Instanta sous vide water bath, was presented to the catering team and will be a welcome addition to the college's kitchen equipment. But, rather than just handing it over, students were treated to a sous vide masterclass with local YouTube sensation and CCN alumnus Ian Haste of Haste's Kitchen.
Demonstrating the product's key uses and benefits - the principle of which is to vacuum seal the item of food before submerging it in water - Ian cooked mouth-watering duck breast served with sweet potato and parsnip puree, asparagus, cabbage and a cherry reduction.
"We were so pleased that the students took some time out of their exam schedules to join the demonstration," says Kelly Knight, Brand Manager at Instanta. "It won't be long before they will be cooking in commercial kitchen environments, and we hope that by working with and being familiar with our sous vide they can apply this knowledge in their roles."
Catering Manager at CCN, Mark Bradly, adds: "Having the support of businesses is fantastic for us, especially when they are willing to donate a product as Instanta did. Being able to confidently cook using a sous vide is a skill that the students absolutely need. Having a brand new product to use will ensure they can perfect their dishes, whether they are making beautifully moist steak, sumptuous chicken, or perfectly cooked vegetables.
"Ian's masterclass was the ideal way to introduce the students to the Instanta product and find out first-hand how a professional chef gets exceptional results. We're very grateful to both Instanta and Ian for their time and generosity."
Relishing the chance to visit his old college, Ian was delighted to provide the students with some tips: "I always enjoy demonstrating to students so I jumped at the chance when Instanta approached me, especially as it was in familiar territory! Cooking with sous vide takes a bit of practice, but the results are worth the effort, so I hope the masterclass was useful."
Photo caption: From L-R students Alfie Jaggers & Imogen Humby join chef Ian Haste and Kat Maddox from Instanta. Product pictured is the Instanta SVP38 Culinaire Sous Vide (SV38)
Back to all articles