CTS5 SUREFLOW COUNTER TOP BOILER 5LTR (1000C)
WATER BOILERS
CTS5 SUREFLOW COUNTER TOP BOILER 5LTR (1000C)
The 1000C is designed for those locations where space is limited but standards are high. Made to Instanta's exacting specification criteria, the 1000C is the boiling water solution for small to medium sized catering establishments.

GET THE NEW TOUCH FREE TAP ADAPTER FREE with all new purchases of a counter top or on wall boiler (until 31st August – quote XTPA/1/FOC when ordering)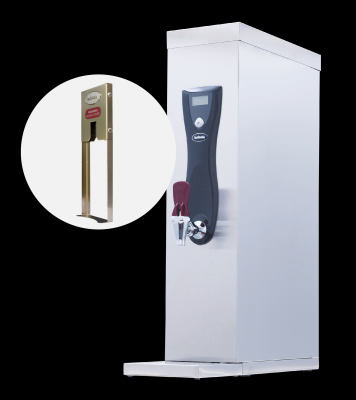 Features and Benefits
· Self diagnostics system
· Long-life incoloy element
· Well insulated for minimal heat loss & energy use
· Stainless steel drip tray included
· Complete with 1.75 metres of cable & 13 amp plug

Installation
Easy to install on a stable worktop.

Plumbing
Designed for direct connection to a potable cold water supply using the 1.5 metre (3/4" BSP) hose supplied. An isolating valve should be installed between the supply and the heater. Rear supply connection and choice of rear or front overflow is available (rear option requires kit not supplied).
Electrical
To be connected to 230 volt supply with a suitable break capacity.

Construction
Mirror finished stainless steel case.
Stainless steel heating chamber.
Low voltage switching.
Two safety cut-outs.
Approvals
WRAS approved.
SELECTED FEATURES
Over-fill protection against limescale
Easy install, service and cleaning access
Basic fault self-diagnosis
Long-life incoloy elements
Insulated for minimal heat loss
Stainless steel drip tray included
SPECIFICATION FOR CTS5 SureFlow Counter Top Boiler 5Ltr
Rear connection clearance (mm)
50
Depth excluding drip tray (mm)
345
Tap clearance to drip tray (mm)
150
TECHNICAL DATA FOR CTS5 SureFlow Counter Top Boiler 5Ltr*
Recovery Rate (litres)
0.5
Stand by Power (kW/h)
0.066
Rapid Draw-Off (litres)
5
Hourly Output (litres)
27
* Based on 6 Cups Per Litre
CTS5 SureFlow Counter Top Boiler 5Ltr


HAS THE FOLLOWING SPARE PARTS AVAILABLE:
Thank you
your contact enquiry has been sent, you should hear from us shortly.